R1SE is an 11-member boy band that was formed at the end of the Chinese trainee survival show, Chuang 2019. The 11 members secured the most votes and thus, R1SE was created. They are popular in China but they aren't as well-known internationally. I suspect this has to do with the lack of translated content. The Chuang episodes on YouTube don't even have English subtitles. They deserve more recognition!
Since R1SE is a temporary group, they have less than a year left. I still think this is worth writing about because they have some amazing performances.
You've probably listened to their songs if you have watched Mo Dao Zu Shi, The King's Avatar live-action, or Scumbag System.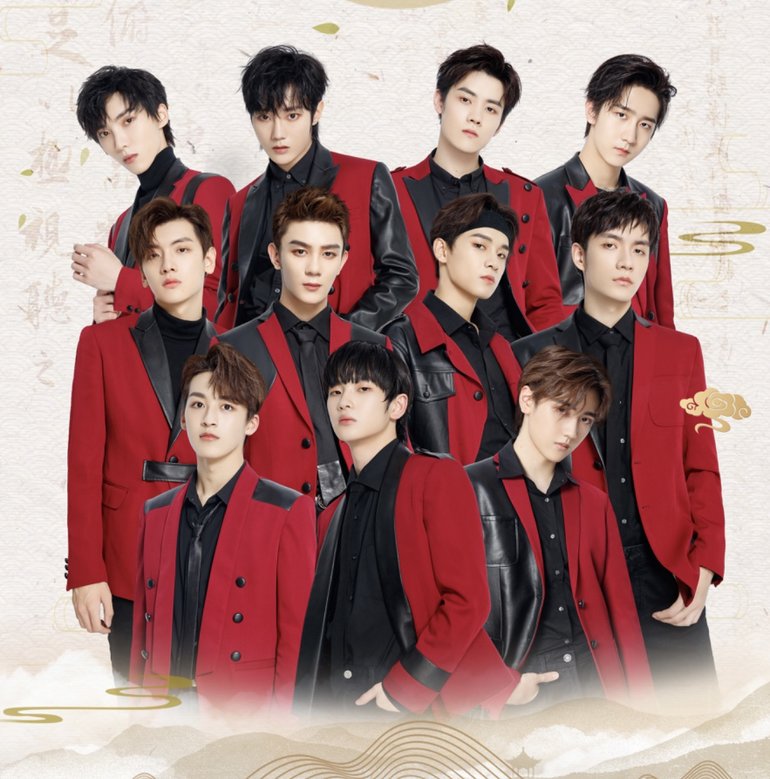 1. R1SE – 少年如故《魔道祖师 Mo Dao Zu Shi》
This is the third ending of Mo Dao Zu Shi. Five of the members sing it. They are Zhao Lei, Ren Hao, Liu Ye, He Luoluo, and Zhai Xiaowen.
2. R1SE – 荣耀的战场 《全职高手 The King's Avatar》
Most of their videos on YouTube are in Chinese.
3. R1SE 赵磊 Zhao Lei – 忘言歌 Song of Words Unsaid《Scumbag System》 
Zhao Lei is one of my favourite members. Scumbag System is actually airing right now. You can watch the episodes legally on YouTube. They have English subtitles! The CGI rubbed me the wrong way at first but I quickly got used to it. The story is by the creator of Mo Dao Zu Shi. I recommend it.
4. R1SE – 曜
This is their live performance of 曜. They're amazing in this one! The chorus is catchy.
5. R1SE – 中国话
The original song is sung by the Taiwanese girl group, S.H.E. In this live performance, they added Chinese opera and rap. It's cool that they combined these different genres. This is one of my favourite performances of theirs. At the end of the performance, they pulled out nunchucks like?? Wah.
I love Zhao Lei's opera in the beginning and Zhang Yanqi's rap @2:57.
6. R1SE – YOU
This is the practice video version of YOU. This song is more focused on vocals. I love Liu Ye's vocals the most in this one. He's also my favourite member.
7. R1SE 翟潇闻、赵磊 – Forever Young
This is Zhai Xiaowen and Zhao Lei's live performance of Forever Young. The original song is sung by another singer but I actually prefer their cover. They are the main vocals of the group.
8. 创造营2019(宝藏男友、蜕变、滨河东路、EMP、Fireman、敢、青春纪念册、创造101)- 蜕变
This is a performance from Chuang 2019. Only two members of R1SE are in this one (Zhou Zhennan and Zhao Lei). This is my favourite performance from the show. Zhou Zhennan, the one who secured first place in all the episodes, is amazing in this one. Not only is his rap great, but his vocals are perfect @2:50. This song isn't really his style either, which makes it even more impressive.
9. R1SE+SNH48 – Y'all Don't Touch It
I like this performance but I think R1SE does a better job than the girls… I think Ren Hao, Liu Ye, and Zhou Zhennan's visuals pop out in this one. Ren Hao is the one in the beginning and Liu Ye appears at @1:40.
Runner-up songs and performances: 梦在黎明破晓时 and Blue Bird (Yes, the Naruto opening).
---
I hope that you'll check out R1SE's songs. It's a shame that they aren't promoted to international audiences. That's why us fans are pulling our weight in hopes that someone out there will be interested!